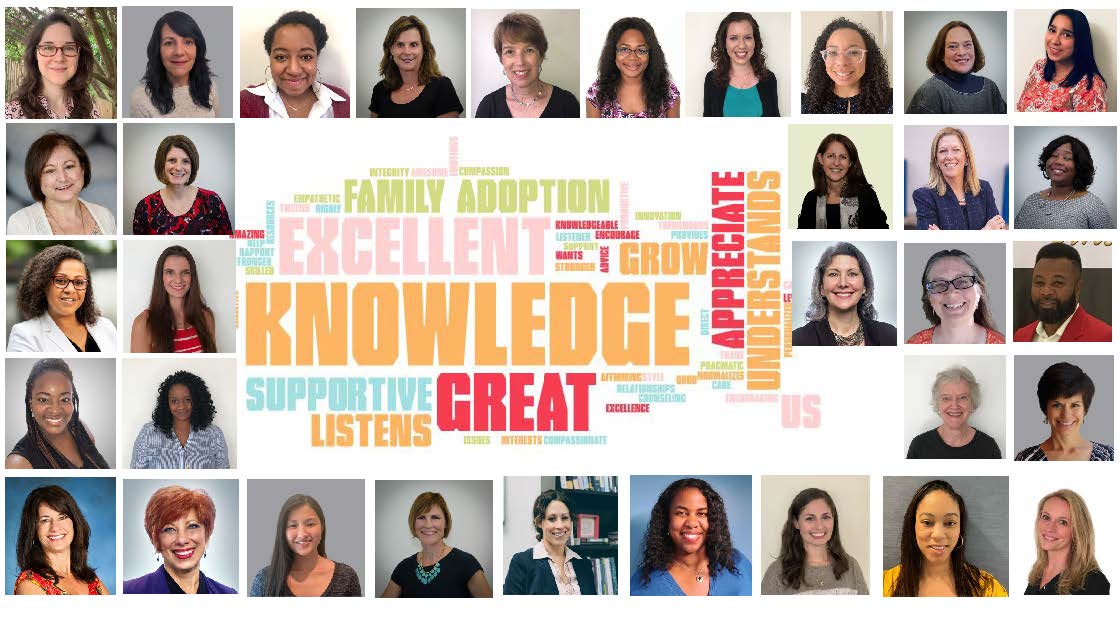 Why National Social Work Awareness Month is Important
Social workers are a vital part of our communities and social justice causes. They are on the community front lines serving children, families and individuals manage challenges impacting their lives. Social workers are all about implementing change and helping create a better society. The month of March is dedicated to raising awareness and bringing social workers into the forefront of our minds as their vital role in the community continues to grow as the world faces many crises, one being a growing need and focus on mental health.
This March, the National Association of Social Workers (NASW) celebrates Social Work Awareness Month with the theme—The Time is Right for Social Work. At Center for Adoption Support and Education (C.A.S.E.), our licensed social workers provide specialized mental health and support services to the foster care, kinship, and adoption community. Each and every day they are having an impact on the lives of so many who have reached out during times of struggle. National Social Work Awareness Month is a time to elevate and advocate for social workers as their great impact in the lives of those they reach is not acknowledged often enough. During this month at C.A.S.E., we are creating opportunities to give special acknowledgment to the clinical social workers in our organization whose dedication helps to foster healing and growth. The next time you see the social worker in your life share with them how they have impacted you. We invite you to join C.A.S.E in raising awareness and celebrating their impactful work.
Whether you know a social worker, one who is aspiring to be a social worker, work with social workers, or admire the jobs they do, now is a great time to show your appreciation. There are many ways to raise awareness and celebrate!
Spreading the word on social media is an excellent way to support the recognition social workers deserve.
Post videos, images, stories, and gifs recognizing all the hard work they do and demonstrating their life-changing actions.
Use the hashtags #SWMonth2022 #RightTimeforSocialWork #SocialWorkMonth and #NASW to join the conversation around the importance of social work.
Ask the social worker in your life if they are comfortable taking photo with you and shout them out on social media! It is a great way to share stories and impact lives.
Attend Social Work Events
Check out the various virtual events that you can participate in to gain a better understanding of social workers and how they work in our society. Plus, if you are a social worker, you can meet other professionals and discover new information at conferences and conventions.
NASW has 55 chapters throughout the United States, learn more and get involved with the chapter in your area.
If you live in the Maryland, Washington D.C., or Virginia area, the Center for Adoption Support and Education has a variety of resources for families and professionals, including webinars, training, seminars, and workshops.
Become an Advocate for Change
Advocacy is a topic near and dear to many social workers' hearts. No matter what you are passionate about, you can become an advocate for change. In March, take the time to make a difference and call on legislatures and regulatory agencies to change policies. NASW even has a toolkit designed for advocates looking to make a change.
Donate To a Local Resource
Another way to celebrate National Social Work Awareness Month is by donating to a local cause or resource. Your donation can directly or indirectly benefit the many social workers who work in your communities and neighborhoods. You can contribute to the NASW foundation or other organizations that are important to you that have social workers, such as the Center for Adoption Support and Education.
We are here to support you
At C.A.S.E., we provide specialized adoption competent mental health services and ongoing post-adoption supporting Virginia, Maryland, and the District of Columbia to adoptive, foster & kinship families. If you are looking for counseling services or post-adoption support, we are here to help. Schedule a free consultation to learn more about our services.
Related Posts
By the time I was a junior in high school, I had become pretty self-sufficient. While not attending school I played sports and worked as many hours as[...]

Read More

Searching for Home I've spent my whole life look[...]

Read More

Adoption Expert: April Dinwoodie

Read More