Help Get the Word Out about NTI!
The National Adoption Competency Mental Health Training Initiative is currently piloting the child welfare and mental health curricula in 9 sites across the US including California, Illinois, Maine, Minnesota, Oklahoma, South Carolina, Tennessee, Washington and Cherokee Nation. The training is available free of charge, and is funded through the Children's Bureau.
TEN Communication Tools You Can Share NOW:
(Click the Graphics to Get the Content or Link)
1. Share the link to The Sign-up Form
Mental Health Professionals can sign up now for the NTI Pilot Training!
2. Share the Link to the Promotional Video:
3. Create an NTI Website Announcement.
Feel free to customize the content according to your needs. (Click on the thumbnail below to download a PDF of the content.)  Idea:  Build out subpages from your main NTI announcement webpage to hold your select NTI communication tools! 
Need assistance or want to share your ideas? Email info@adoptionsupport.org.
4. NTI's Pilot Training Mental Health Webinar:
5. Preview of the Curriculum in two samples: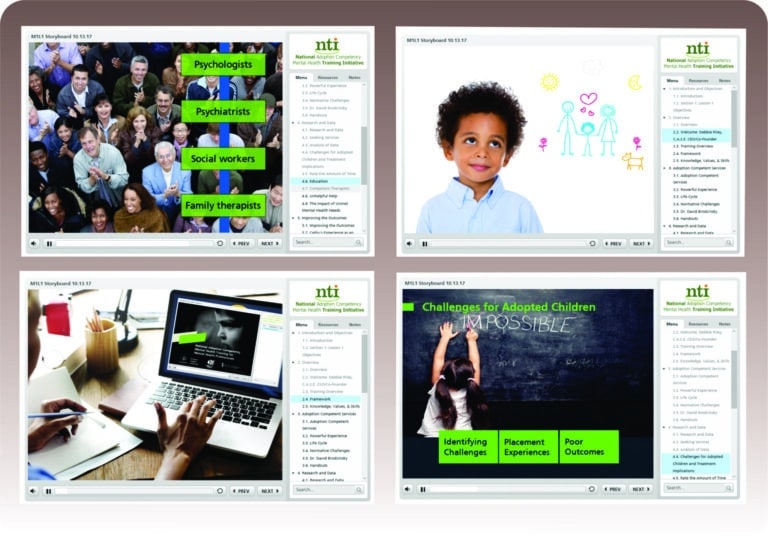 Module 1, Lesson 5  and  Module 3, Lesson 3
6. "Like" and "Follow" NTI on FaceBook .
Share our posts or create your own and mention us.
@nti.case
7. Extract information from the Press Release as you need, or share it all:
8. Create an NTI training area on your intranet or website.  Link to any resources on this page, or link to the NTI "Mental Health Training Resources" page:
9.  Send an email to your organization and others about NTI.  Click sample below.  Feel free to customize for your needs.
10. Connect:  Interested in bringing this initiative to your organization or community?  Still have questions?
Let us know your needs by using this form.  We want to hear your ideas and comments.
Thank you for connecting with us!
Warmly,
The NTI Implementation Team